Erotic games for adults are pure fun and ecstasy – here are some examples for realy hot fun nights with your honey!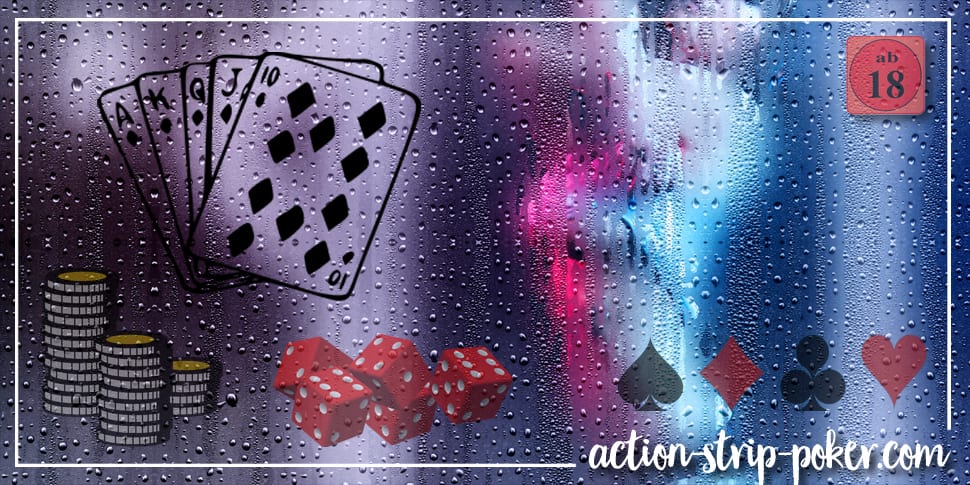 Erotic games for adults for hot evenings for two, three or four people..
We have tried many erotic games for adults and have always had a lot of fun with them. Especially when it gets really uncomfortable outside in the dark, cold season, then it's time for hot evenings to play erotic games with the partner you love. Maybe even with a couple of friends? No matter how you like it … whether as a couple, three or more: Here are a few suggestions for you, how you are guaranteed to spend mighty hot evenings!
Strip-Poker
Erotic games for adults variant: The first thing you should do is good "old" strip poker. Everyone should have heard or played strip poker before. If you lose, you have to take off a part. Don't know the rules of poker? No problem, any other "normal" game will do, too, such as Mau-Mau, Don't worry, canasta or rummy. If you lose a round, you take a piece off. If you don't get angry, the person who is thrown out has to take off a part. It's a lot of fun and the glee is sure to come out one or the other time. Very different things come to light in these strip games 🙂 A great game of strip poker in front of the open fireplace by candlelight and a glass of good wine … there is (almost) nothing better.
Spin the bottle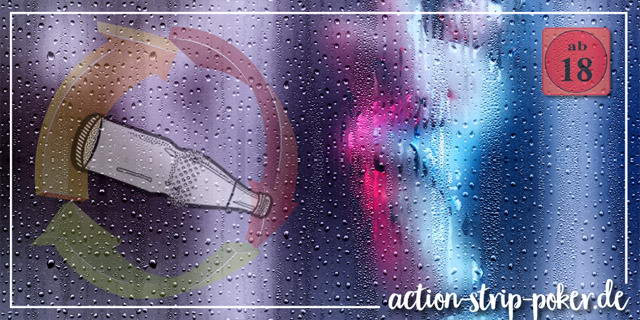 Erotic games for adults variant: Everyone knows spin the bottle from their school days. You sit in a circle (makes sense to play it with several people) and in the middle an empty bottle is turned on the floor or on the table. Whoever the bottleneck points to at the end has to answer a question honestly. It is up to the person who turned the bottle to ask this question. Finally you can ask what you always wanted to know and maybe just didn't dare! You can ask harmless questions or mighty spicy ones. Either way, the person must answer honestly. If she doesn't answer, or if it's proven wrong, then you can give her a task. For example, walking down and up the stairs naked. There are no limits to your imagination. I am sure you will come up with something. It's a lot of fun and it's wonderfully dirty. You are guaranteed not to forget these erotic games for adults anytime soon.
Blindman's Buff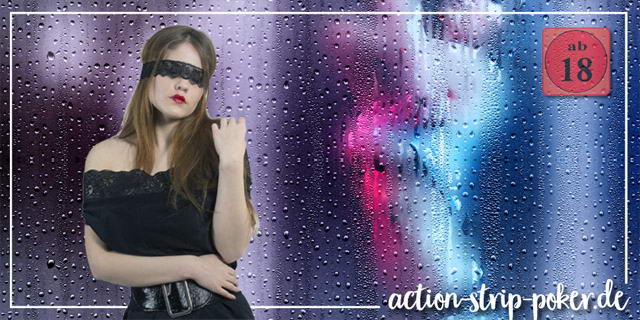 Erotic games for adults variant: Blindman's Buff is not supposed to allude to the blindfolded lady of the house. : D You probably know the blind cow from earlier children's birthday games. But in this version of the erotic games for adults, the pot and spoon stay in the cupboard in the kitchen. All you need are two towels and ear plugs. You connect your eyes with the scarves and close your ears with the ear plugs. As a result, you will perceive the coming touches much more intensely and tingly. Then one of you distribute small things on or on his body. When you've moved out, it can also be, for example, a strawberry that the other person has to look for and feel. And when it is found, it is nibbled with the mouth. Take your time and look for something more extensive and longer. Your counterpart will enjoy the gentle touch very much!
Bondage & Co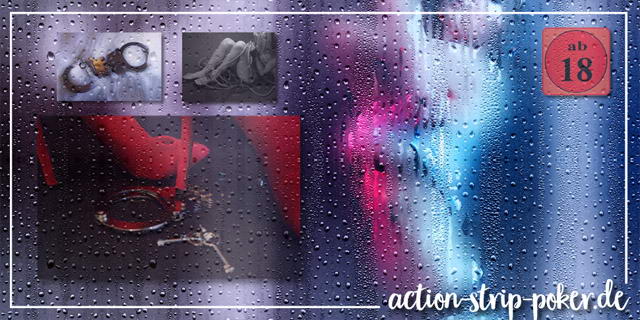 Erotic games for adults variant: How about something else? Where is your partner at the mercy of you "defenseless"? Do you want it harder? Of course you would never hit your wife – and of course I would never advise you to do it … But every now and then a woman expressly "begs" for it. She enjoys being at the mercy and light slaps on the bottom suddenly increase her lust. So what to do if she suddenly whispers in your ear that you should put her over your knee and spank her bottom?
Women don't always want a good boyfriend or husband. It can get a little harder in bed every now and then. Then your sensitivity is in demand, because you don't want to be beaten up, but to get a light slap on the ass. Such sex can take you to a new level of familiarity. As I said, this is not about violence. Rather, it's about doing theater. The act of submission, however, requires the self-image that the dominant part is within fixed limits.
The subject determines the limits and has the rudder firmly in hand at all times and always has the right to end the game. At the beginning you choose a code word for the termination that cannot be interpreted incorrectly, for example "Mayday" or "Emergency call". If this falls, you stop immediately and without discussing!
Pay attention to bondage tricks in bondage games: Real bondage knots are not tied directly to the skin, but rather to a bow. Use a rope to make a comfortable loop around your wrist / ankle and tie a knot to this loop with a second rope.
City Country River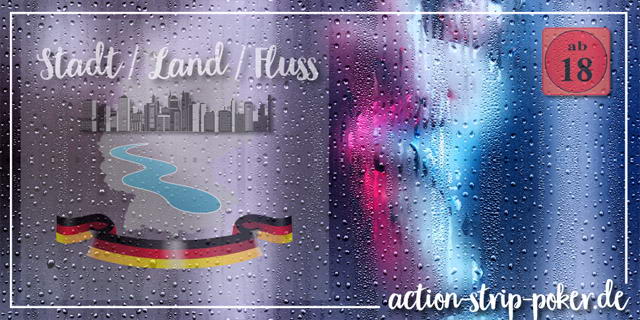 Erotic games for adults variant: City country river but with completely different terms such as sex position, body parts, lovers, sex symbols, sex toys and the like. There are no limits to your imagination. The well-known, slightly modified erotic game for adults offers a high party-fun factor. The sexy partner variant: After finding the letters, it is important to find a piece of clothing with the letter that the partner is wearing. He then has to discard this. If it is hidden, the other clothes have to be removed first. Or you can play the strip variant: For each letter won, the loser has to take off a part.
Body buffet – all you can eat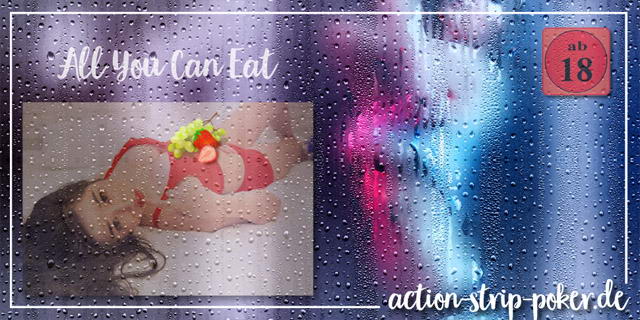 Erotic games for adults variant: Body buffet: You are playing your favorite game. The winner then determines who is to be garnished and who is allowed to "snack".
Sex dice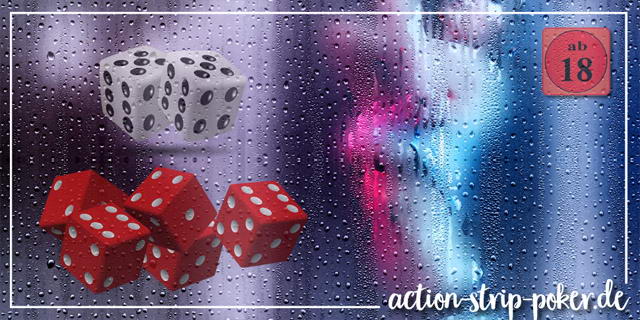 Erotic games for adults variant: With sex dice you play with a normal dice. Before doing this, you agree on what the numbers mean.
For example, a 1 can mean a massage. A 2 means a long, intense French kiss. A 3 could stand for a hot strip, with a 4 you can completely undress your partner. For example, a 5 could stand for oral sex and a 6 would then stand for pure sex. Here, too, you can let your imagination run wild and choose your tasks. Just thinking about it heats up the mood.
Erotic games for adults are the absolute hit, especially in the uncomfortable time of the year. But strip games are also enjoying growing enthusiasm in summer. You can play them outside in the garden when the weather is nice and warm. Perhaps invite the neighbors to join in, then it could be twice as exciting.
That was some erotic games for adults … if you know any more that are missing here, then it would be great if you post them in the comments.
We played such great games very often and always had great fun and pure lust. But one thing came up short in these games after a short time, or it bothered us after all:
All tested Erotic games for adults were just too harmless!
Especially when you play with three or four people, you actually want more. But unfortunately, erotic games for adults don't offer much more than undressing.
That is why our swinger game "Action Strip Poker" was created many years ago. We developed this game ourselves and tested it "self-sacrificingly" in numerous mega awesome evenings!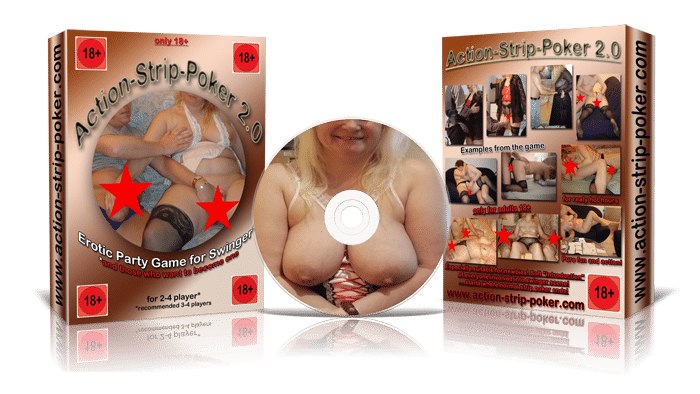 Action Strip Poker starts where all other games ends. With Action Strip Poker you are guaranteed to spend hot evenings – no matter if you are two, three or four people. The pure pleasure increases from minute to minute. You will experience one climax after the other and you will never want to miss this game again!
But be careful! Action strip poker gets realy hot and dirty 🙂 On the cover above you can see some game situations that result from the course of the game and provide powerful eroticism through to pure sex.
Action strip poker is suitable for couples, experienced swingers as well as beginners who want to get a taste of the swinger scene. Everyone will get his own pure fun with this varied and extremely hot sex game for adults. The woman (s) especially, often and violently! 🙂
You can find more information here about our Action Strip Poker Game, a super hot sex game from the series "Erotic Games for Adults".