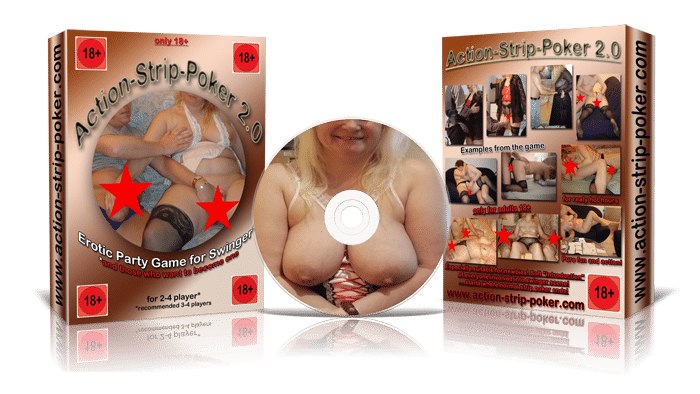 Erotic Party Game / Swinger Game
for swingers and those who want to become one - particularly suitable for "breaking the ice"
For the ultimate sexual kick
You will remember this special evening for a long time! You will already imagine in your mind how this game goes with other players ... and with others ... and with others ...
THE highlight in your sex life
It is important that everyone gets their own fun and experiences one climax after the other.
Particularly suitable for beginners
A great ice breaking game! Don't fall into the house straight away, but gently and carefully but purposefully have fun together with 6 different and increasing levels.
Games and action for 2 to 4 players
No matter if couples (♂♀ / ♂♂ / ♀♀), 3some (♂♂♀ / ♀♀♂) or 4some (♂♀♂♀) straight or bi - everything that is fun is allowed - in all combinations, it just should to be discussed in advance.
Gentle introduction to the swinger scene
Introduce your partner to the swinger scene in a playful way. Fears of contact vanish in no time!
Bring variety to your sex life
No more ugly normal sex! Now there's games, fun, action and guaranteed highlights in your sex life! Get to know yourself and your partner from a completely different side!
Action Strip Poker - the hot sex game!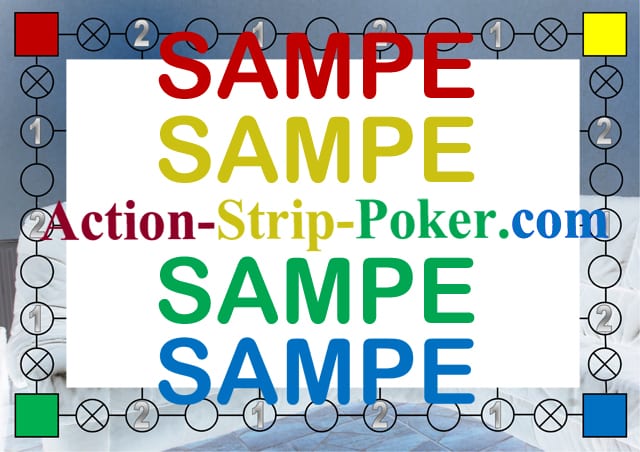 What makes our swinger game so special?
Action Strip Poker is a swingers board game, has very simple rules and is easy to understand for everyone.
The Swinger Game is a dice and board game with cards. A mixture of Monopoly, Poker, Strip Poker and pure SEX! Games, fun and sex for everyone involved. The game can be played by 2-4 players, but 3-4 makes things a lot hotter! During the game, different tasks have to be mastered, which increase from 1 to 6 according to the respective level - in terms of difficulty or sexual activity. Whoever has completed all levels first and gets back to his start / finish field is the winner and receives a mega-awesome prize!
Special features of Action Strip Poker, the NEW Swinger Game:
Everyone gets their our pure fun and is guaranteed to have a realy lot of fun.
Can be played straight or bi - depending on agreement or inclination.
Action Strip Poker is constantly being expanded with new tasks.
We collect correspondingly cool suggestions and (depending on the version) deliver them to all customers free of charge in the next update!
Which tasks are available at the Action Strip Poker?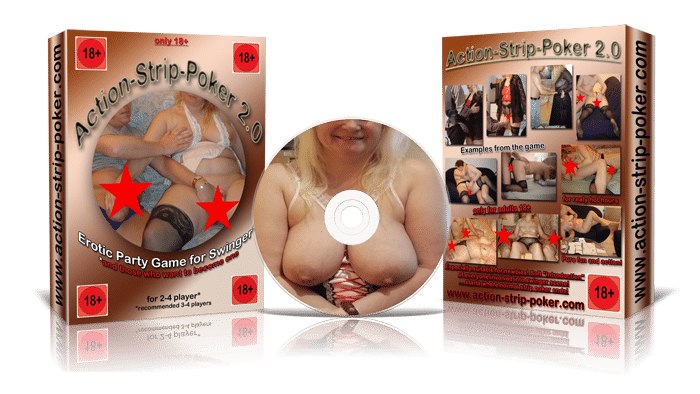 Action Strip Poker Level 1 to 6 ascending from harmless to mega awesome and dirty!
Our Action Strip Poker also starts like strip poker with undressing, but then picks up where strip poker ends. A few examples from the course of the game are shown next to it. It is very important: tasks can also be rejected! After all, it should be fun for everyone. Everyone decides for themselves! Our players are very welcome to send in further suggestions for awesome tasks, these will then be collected and published in an upcoming update. The senders whose submissions are accepted will be the first to receive the update free of charge! So the swinger game is always different and never boring! Guaranteed!
Action Strip Poker can be ordered securely and discreetly via PayPal
What do our avid Action Strip Poker players say?
Here you can get the hot action strip poker fun